Hello Monkey in Gothenburg offers a taste experience with Asian overtones. Hello Monkey Restaurant is located on Magasinsgatan in central Gothenburg, just a stone's throw from the shopping and boutiques of Västra and Östra Hamngatans. In other words, Hello Monkey is the perfect place to visit after a day of shopping in central Gothenburg.
Quick facts about Hello Monkey
| | |
| --- | --- |
| What | Restaurant in central Gothenburg |
| Why | When you want Asian food with a modern twist |
| When | Every day from 17:00 to late |
| How | Both on site and take away |
Hello Monkey on Magasinsgatan offers exciting pan-Asian food
At Hello Monkeys restaurant on Magasinsgatan you will find a range of very popular Asian dishes. The restaurant itself describes it as pan-Asian cuisine. Pan-Asian food differs somewhat from traditional Asian food because chefs often use a variety of oils in cooking to influence the taste experience.
The development of Pan-Asian cuisine is partly due to tragic circumstances. From the 1960s onwards, wars, conflicts and natural disasters affected large parts of Asia. People here didn't have time to experiment with cooking, now it was more about getting something to eat in the first place. But many fled to the United States and Europe, where they were better off. As prosperity grew, they brought out their old Asian signature dishes and gave them a modern twist, and so the foundations of Pan-Asian cuisine were built. Hello Monkey serves sashimi and dim sum, among other dishes.
Varied Menu at Hello Monkey in Gothenburg
At Hello Monkey, Magasinsgatan, the menu is very varied. They serve a variety of sashimi with both fish and vegetarian ingredients. The menu also includes dim sum, which is also available in a kind of combination dish. For your main course, you can enjoy a sesame-marinated tuna or a chicken "laab style".
If after dinner you feel the sweet tooth setting in, there are three delicious desserts to choose from, with a chocolate and banana cake with vanilla ice cream standing out, and sure to be a favourite with the kids too. As mentioned above, it is possible to order the food as take away. However, if you are planning to sit down for traditional dining, you need to be prepared. At Hello Monkey you need to book a table in advance. However, booking a table at Hello Monkey is easy, you can do it by calling or emailing. Clear instructions for this can be found on their website.
Top choices at Hello Monkey
Sesame breaded tuna
Sashimi with Japanese raw beef
Deep fried soft shell crabs
Banana and chocolate crunch with vanilla ice cream and grated coconut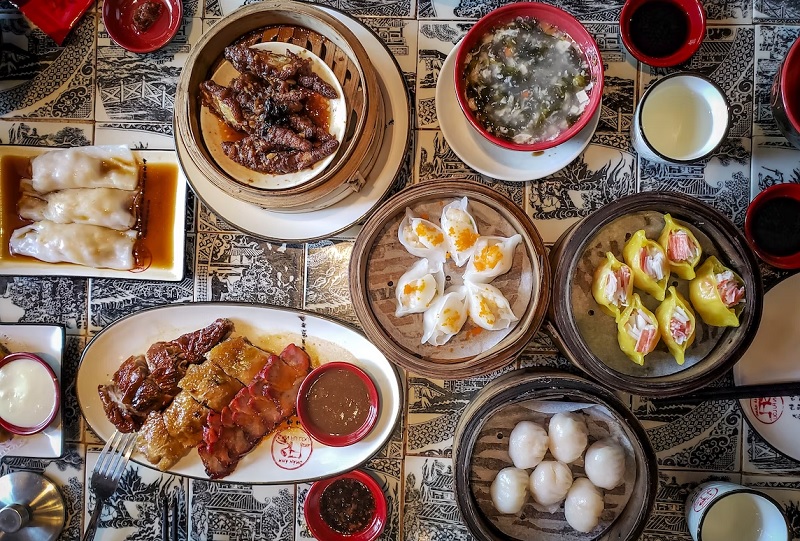 Hello Monkey – a side project that went both well and badly
When you're innovative in the kitchen regions, it goes without saying that you want to go out on a limb and push your boundaries. Hello Monkey has started and run several concepts alongside the restaurant on Magasinsgatan.
One project that was launched a few years ago was Hello Monkey goes Italian in Gothenburg. The concept was an Italian fusion restaurant located on the central Kyrkogatan in the middle of Gothenburg. The restaurant was much appreciated but has unfortunately had to close.
For a while there was also a branch of Hello Monkey on Linnégatan in Gothenburg, but there is no indication on the website that it still exists. It is also not possible to book a table at Hello Monkey, Linnégatan, which indicates that it is closed.
One concept that remains is the Apanaget bar, which also serves selected charcoal-grilled dishes and a variety of snacks.
What does a review say about Hello Monkey?
If you take a look at Tripadvisor and Google's restaurant review features, you'll quickly see that a review of Hello Monkey is usually very positive. On Tripadvisor, the restaurant ranks very high, and it's tough competition as Gothenburg has well over a thousand restaurants. Even on Google, the overall rating is very high.
A review of Hello Monkey usually notes that the food is of very good quality and delicious, but also that the service and atmosphere are of a standard well above average. One thing that many guests find a bit disappointing is that Hello Monkey does not serve lunch. But if it's evening and you're in the mood for exciting pan-Asian food, Hello Monkey at Magasinsgatan 26 in Gothenburg is a safe choice.